Unbelievable LinkedIn Response From Head Of NE Ohio Jobs Bank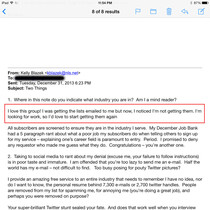 Posted February 27th, 2014 @ 2:28pm
Kelly Blazek is the self-appointed head of a group called the Northeast Ohio Communications Job Bank in Cleveland, which she created to help creative types find work in the area. She has even won the 2013 IABC Communicator of the Year award for her efforts, Twitter feed, listserv group, and LinkedIn connections.
Yet, this is how she responded to a polite email from an out-of-work professional seeking her assistance and access to her Job Bank in hopes of finding a new job in Ohio.
Great first impressions, Ms Blazek.
Read more on the story, including responses to criticisms by Kelly Blazek, here.